Homeless veteran finds permanent housing with help from HVAF
May 2, 2017
Veteran gets a new start
May 23, 2017
Veteran makes strides through HVAF employment services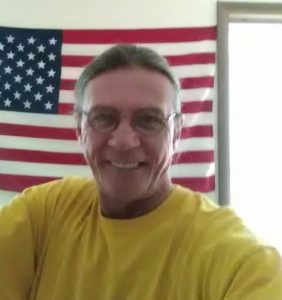 Lew at HVAF
Lew served in the Air Force from 1986-1990. As a young adult, he was looking for direction in his life and thought what better way than to serve his country. He was a part of the MAC Military Airlift Command. After finishing up his military duty, Lew worked to get his BA in Marketing and minored in Economics. After college, he worked for General Electric, Stuart Warner and a few other companies and found a "knack" for sales. After going through a rough time of divorcing his wife and losing his father, Lew turned to alcohol. He had three DUIs and eventually got into an accident in which, luckily, no one was hurt. He spent three years in prison. He reached out to HVAF in 2013, one of the lowest years of his life.

"When I was going through the rocky 3 years [2013-2016] of my life, I needed a place to stay and I was trying to figure out how I'm going to do this. I have a good support system with family, but found strong support from HVAF," Lew said.

Lew believes he would be in a day shelter if it wasn't for the excellent staff at HVAF. HVAF Employment Specialist Kiara Walker assisted Lew in finding the job he has now. "Lew had a vision of where he wanted to work and the salary he felt would be a livable wage. He did not give up until he felt all of his needs were satisfied. I enjoyed working with Lew," says Kiara. Lew currently works for Dickinson Fleet Services as the Purchasing Assistant in which he finds great purpose.