Housing service provides relief for one homeless veteran
May 2, 2017
Upcoming event – Volunteer to raise funds for HVAF
May 2, 2017
Homeless veteran finds permanent housing with help from HVAF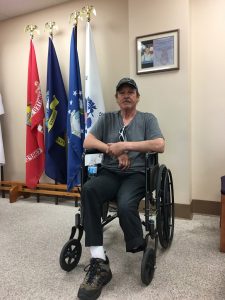 Tom, 59, served in the Air Force from 1977-81. The California native liked working on airplanes. On October 6, 2006, life as he knew it changed. Tom was hit by a bus on the streets of Indianapolis. He spent 6 months at the VA hospital and had 3 operations. He lost his left leg and is confined to a wheelchair. He spent 2 years in a nursing home. He couldn't find work and he became homeless. HVAF's Outreach Worker Rodney Jackson talked to him about the programs and services our organization has to offer. It took time to build trust.
Once Tom was ready to come in from the elements, we provided him a warm bed for the weekend.
"There was still hope in his eyes. He was crying because he had nowhere to go," said Housing Specialist William Najera about his client, Tom. On Thursday, March 30, Tom ready to come in from off the streets but didn't want to go into transitional housing. William talked Partners in Housing, who to advocate for Tom. The following Tuesday, Tom was moved in. His eyes watered a bit when signing the lease. "Seeing Tom from beginning to end was a complete turnaround," William said.
Tom still faces many battles and demons. The amputee still feels a lot of pain. Physical pain. Emotional pain. He can no longer work at a factory as a forklift operator which he enjoyed for over 3 decades. He struggles to find meaning and purpose in life. His pride is shattered. But for Tom, each day matters. You can hear happiness in his laughter.