Veteran gets a new start
May 23, 2017
Army veteran lands job
May 23, 2017
Veteran lands job after receiving employment assistance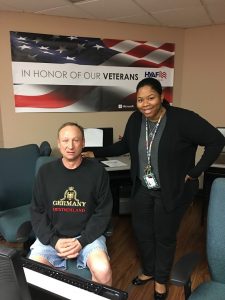 Jeff with Kiara Walker at HVAF
"I thought it would be a good decision to serve. I was living in Michigan and they were closing all the factories, and I couldn't afford college," said Jeffery F. The military was a good experience for Jeffery. He traveled to Germany for two years and worked as a combat engineer.
Jeffery received an Army Honorable Discharge on August 10, 1988 and rode cross country on his motorcycle from Michigan to Oregon where he started working. Later, he returned to Michigan to study mechanical engineering at the University of Michigan.
Last summer, Jeffery's apartment complex was under new management, and they evicted elderly and disabled people… he was one of those people. He was homeless for three months. Jeffery slept outside a few nights at Pleasant Run Golf Course, while other nights he stayed in a hotel.
He heard about HVAF through his VA case manager. At HVAF, Jeffery met Employment Specialist, Kiara Walker. Kiara and Jeffery had been looking for meaningful employment for roughly five months before he gained a stable job at Scotty's Brewhouse. "He would meet with me every Wednesday at 2:00 pm like clockwork. He never once missed an appointment. Our luck finally changed one week when he was offered not one but two positions that are both in his field of culinary. He was a cook in the military- sergeant in the Army –Food service Specialist," adds Kiara.