WTTS Rock to Feed is benefitting HVAF
November 13, 2023
Roger That Podcast Ep 12: Meet the 2023 12 Vets of Christmas!
November 20, 2023
OPERATION ALPHA 2023: The Biggest, Bestest Veterans Day Party yet!
We say this every year, and thankfully we get to say it again – this year was the BIGGEST & BESTEST Operation Alpha yet! Nearly 400 amazing people came out and enjoyed the evening – and helped us raise $150,000!
What is Operation Alpha?
Hotel Tango Artisan Distillery's Founder and CEO, disabled U.S. Marine Corps veteran Travis Barnes, started Operation Alpha in 2014. He founded the annual event as a way to raise funds for HVAF's operations, programs, and services.
Over the years, HVAF has raised thousands at each event – through ticket purchases, games, cigar & canteen cup purchases, and more. At first, the event took place at Hotel Tango, but we eventually outgrew the space. Since 2019, we've hosted OA at The Biltwell Event Center.
Operation Alpha 2023
The evening started with attendees enjoying Hotel Tango spirits, Upland & Sun King beer, The Wine Group wine, and delicious food while playing some games – including a whiskey pull and wine toss.
HVAF's Marketing & Communications Manager Lauren Carpenter had a great time covering the event on Facebook Live. Check it out:


Later, VP for Support Bernie Kruse emceed the event – sharing details about the organization, cracking some jokes, showcasing top sponsors, and presenting the crowd favorite: The Grog Bowl Ceremony!
We are thankful for Bernie's talents as this is the SIXTH Operation Alpha he has emceed! We appreciate all of the time and effort he puts in to ensure the program is entertaining and meaningful.
Check out the program & Grog Bowl Ceremony below:
We know we can't put on an amazing Operation Alpha each year without our amazing sponsors! Be sure to check out our Two Star, Three Star, and Four Star sponsors here.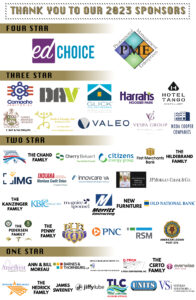 But Operation Alpha also wouldn't be possible without VP for Advancement Ashlee Walls-Pierce. She has been the mastermind for Operation Alpha since 2019 and works hard all year to ensure each year is the BIGGEST and BESTEST!
"It really was the biggest bestest Operation Alpha yet!" Ashlee said. "I was absolutely blown away with everyone's generosity during the event and still can't believe we reached our goal of $50,000. To say I'm grateful would be an understatement."
We set a huge goal of raising $50,000 during the event and our amazing attendees made it happen! We are so thankful for the immense support to serve Indy's veterans in need!
These photos really capture what OA is all about: Partying with a Purpose!! Thank you Tell the Story Photography for donating your talent and taking these beautiful photos!
We raised a lot of funds on November 10, but the support for Hoosier Heroes is needed and appreciated every day of the year. If you would like to join our mission in ending veteran homelessness, click below: