Army veteran lands job
May 23, 2017
Employment partnership helps veterans at HVAF
July 5, 2017
Homeless veteran gets help with housing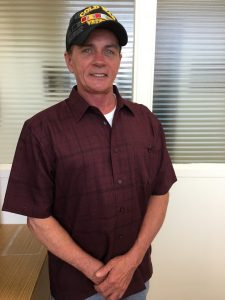 Earl at HVAF
"The first time I realized I wanted to protect and serve my country was in High School. I was in ROTC, but my grades were suffering. The Army was my ticket out. Also my uncle, Cecil, served in WWII and drove the M4 Sherman tank and that was another piece of inspiration. I admired Cecil."
Earl served in the U.S. Army when militant students supporting Iran's Islamic Revolution stormed the U.S Embassy in Tehran and took scores of hostages.
Earl was injured during service and 70 percent of his body was burned. He suffered from PTSD as a result. He is still seeing

psychologist

s today and takes medication daily.
Earl became homeless as a result of Post-Traumatic Stress Disorder (PTSD) after his service. Homelessness struck when he fell on hard times. Earl turned to drugs and alcohol to cope. His tendencies, he says, caused a strain on his family and other relationships, and he was left with a pile of child support bills that grew larger and larger, and so did the medical bills. Earl has been in and out of jail 12 times because of his inability to pay child support. He also struggled to find employment.
He turned to HVAF for help. He completed the organization's recovery program on March 7, 2017 and currently resides in our transitional housing.
Earl

is an inspiration in what a veteran can accomplish against all odds.